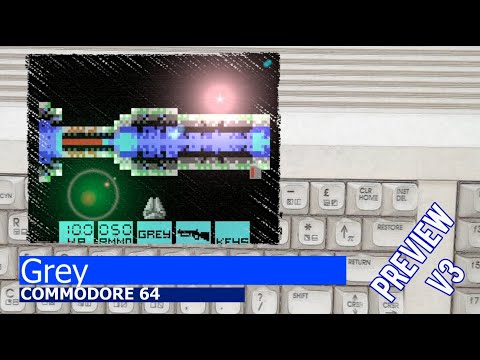 Commodore 64 =Grey= preview v3
***
Saberman&IndieRetroNews.com present: Grey
Grey is an FPS in early development; some areas are available only upon collecting a required door key. The player is initially equipped with only one weapon - a chain gun and can find ammunition, med kits and door keys. The engine allows the creation of enemies of three different sizes (small, medium, and large), equipped or not with a weapon. They can also differ in speed and HP. Enemy movement is very basic. They just try to get to the player in the shortest path possible. When stuck, they follow a random direction for a while and then get back to chasing the player. Their attacks are not fully implemented yet, so the player can't get harmed for now. They can be killed though. Enemies are presented using placeholder sprites.
V3 contains more textures, a larger map, more objects on the map (there are 45 enemies + pickups), new pickups, 4 animated weapons (chainsaw, pistol, shotgun and machinegun), rendering improvements, 4 secret rooms and more.
Credits
Programming and design by Piotr Kózka.
Music, sound effects & textures by Kamil Wolnikowski.
Source:
https://www.patreon.com/zzapmagazine/posts
Download:
https://www.patreon.com/zzapmagazine/posts
@Saberman #Saberman #IndieRetroNews #commodore #c64 #commodore64
?