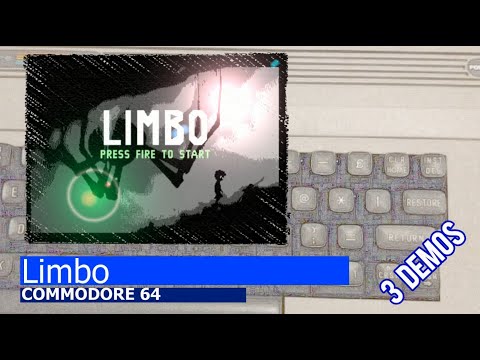 Commodore 64 -=Limbo=- three demos
***
Saberman&IndieRetroNews.com present: Limbo
"This is a Commodore 64 remake of LIMBO that was released on PC and Xbox in 2010, and across most platforms later. But the Commodore 64 version has so far been missing, so I am planning to remedy that. The aim is to make a playable (although shortened) version of the original game with a hand-picked selection of defining areas that should be as recognisable as possible. I am very focused on making the handling and gameplay feel as accurate as possible, rather than making a long or difficult game. I can probably realistically do less than a fourth of the original setups, and I am not planning on introducing needless repetitions, so do not expect a game that will take many hours to complete.
I am creating this as a cartridge only game – at least for now, since that makes stutterless streaming extremely easy, will have plenty of ROM space available and will generally give a better game experience without having a noisy disk drive droning on constantly. Also, this project is driven by love for the game LIMBO (I was part of the original development team) AND my interest in trying to personally make some of the great effects on a Commodore 64 that I could only marvel at, when I was younger. Progress is "whenever I have some time", so do not expect a final game any time soon. I jokingly claim that the game will be ready in 2024. That might be true. And it might not." - Søren Trautner Madsen
Includes is three demos, the original demo and two new demos that showcase the boulder and branch sequences. These are cartridge only.
Credits
Programming and design by Søren Trautner Madsen.
Source:
https://www.patreon.com/zzapmagazine/posts
Download:
https://www.patreon.com/zzapmagazine/posts
@Saberman #Saberman #IndieRetroNews #commodore #c64 #commodore64
?